Live pic of my first trade today.
Target profit is 1145.75. Stop Loss is 1153.50 but I haven't put in that order yet, as you'll see, cuz I'm still at the first level of the trade.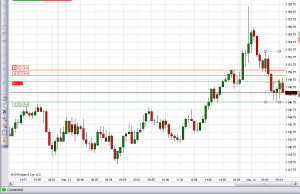 I'm about to cut this trade early because I have to go somewhere soon and I'm going to be gone for the rest of the day. Price hasn't moved much since I entered, but I'm now the full 9 contracts in (short) with an average price of 1150.58.
Price is currently at 1148.75 so that's almost 2 full points with 9 contracts = almost $900 profit.
4.75 points away from the stoploss which would be a loss of $1300. So if I let this trade run, it's going to be either a profit of about $1700 (minus commission) or a loss of $1300 (minus commission).
Screw it, I gotta run. Trade ended early, got a bad fill, out at 1149.50.
Avg Buy Price: 1149.50
Avg Sell Price: 1150.58
9 contracts
$486 before commissions
$444.60 after commissions
Here's a pic of the trade after it was closed. The 3 red arrows are where I entered short, and the green arrow is where I closed the trade just now.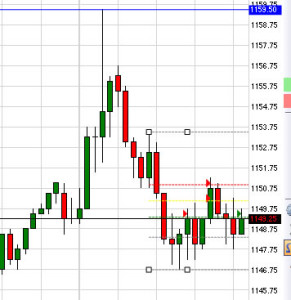 $5,386 profit for the week.